One one level, they are all the same. There is a substrate upon which a design is printed and it "sticks" to something. But there is much more to it than that.
Even though the terms are often interchanged ("It sticks on stuff, so it must be a sticker…") There are some ways we distinguish between the different types and applications.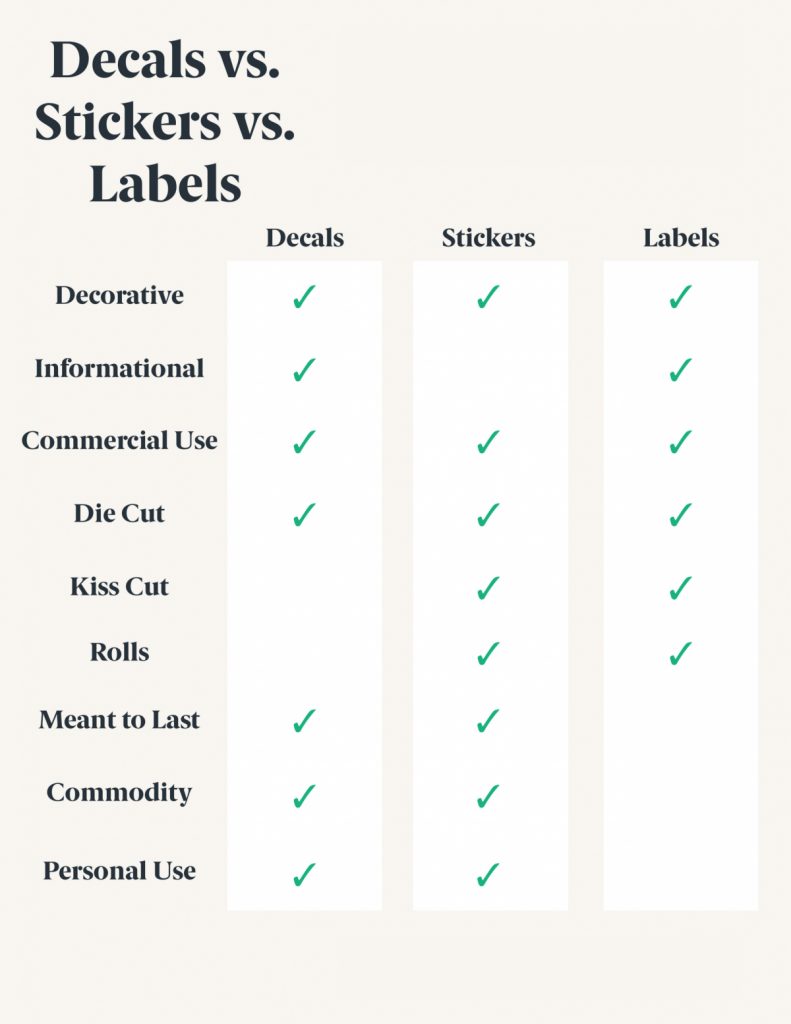 Labels
Labels are specifically used to communicate specific information about the contents of some sort of package – a bottle, food container, bag of parts, etc. In the case of food and beverage there are specific things mandated by law that must be included like a nutritional panel, ingredients and so on. Many labels also have to stand out on store shelves, so design becomes an important consideration. The most general difference is that a label has a more utilitarian purpose and is typically the type of product we sell to companies including food and beverage packagers, manufacturers and other packaged goods companies.
Stickers
Usually stickers are for promotion – like band stickers or schools, clubs and even individuals who want to make a statement. Most of the time they are on a paper substrate and are designed to stick on many different kinds of surfaces. We do some paper stickers but the vast majority of what we deliver are printed on durable vinyl. Customers may refer to anything that sticks as a "sticker" so it's our job to ask the right questions to make sure they get what they need for their application.
What are you using these for?
Do you have the image already?
Are you putting them on by hand or are you machine labeling?
The answers to these questions are what really determines the right materials for the application.
Decals
The word "Decal" is from the word "decalcomania" (1864), and refers to a process of "transferring a tracing from specially prepared paper to glass, porcelain, etc." (This was in vogue in France in the 1840s).
Decals make up a diverse category. As a general rule, decals are larger and more permanent than a sticker or label. The logo and lettering on the front window of your favorite restaurant is a good example of a decal. Decals can be designed to be applied to many different surfaces, including metal, glass, plastic, or even sidewalks. 
Typically we call it a decal if it's going to be on walls, glass, floors, signs, sidewalks, etc.
Ultimately it doesn't really matter what you call them. The words are usually interchangeable depend on who you are asking. What is important is that you choose the right type of material, adhesive and printing process for the application.
One of the biggest reasons our customers keep coming back to TheBumperSticker is because we have deep expertise in this area and are always ready to help determine the best way to fit your specific use.